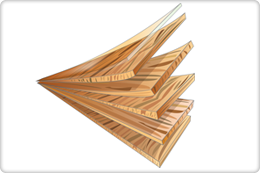 Engineered wood flooring is built up of layers of wood. It consists of three to ten layers, called plies, that are glued together. This multi-ply structure gives engineered wood superior stability, greater than solid wood. This reduces concerns associated with shrinking and expanding when temperature and humidity change. Engineered wood can be installed below ground level making it a great choice for finished basements.
Laminate, vinyl and veneer floors are often confused with engineered wood floors – laminate uses an image of wood on its surface, vinyl is plastic formed to look like wood, and veneer uses a thin layer of wood with a core that could be one of a number of different composite wood products (most commonly, high density fiberboard).
Engineered wood is the most common type of wood flooring used globally. North America is the only continent that has a larger solid wood market than engineered, although engineered wood is quickly catching up in market share.